Partners
Several public and private partners support the Center
During the last quarter century, Toulouse economists have developed a model that brings academic research at the highest level to focus on real-world problems, through interactive dialogue with industrial partners and national policy-makers, leading to the establishment of a unique, world-class research center in economics and other social sciences. This model serves both the researchers and the partners well: the partners because it provides independent validation of the research which is conducted thanks to their support; the researchers because having access to real world problems provides a new dimension to their academic research.
The center offers various opportunities for partners to discuss latest research and its impact on the important societal questions. Furthermore, the partners enjoy access to various scientific and policy events organized by the center in France as well as in other major cities of Europe.
Main donors
Our donors contribute to all scientific activities of the sustainble finance centre. Their support is essential to help us establishing one of the best research centers around finance and their implications to society in Europe.
Donors
Thanks to our several research project sponsors, TSE researches have developed innovative research on emerging issues in financial economics.
Research project sponsors  
Join forces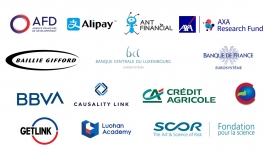 TSE Statement of Scientific Integrity