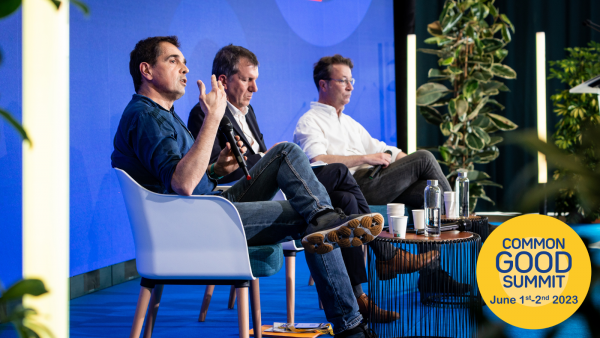 This debate took place during the third edition of the Common Good Summit, organized jointly by TSE, Challenges and Les Echos-Le Parisien Evénements. On June 1 and 2, 2023, economists, economic decision-makers, representatives of public authorities and civil society came together to reflect on a central question: how can we save the common good? With over 1,300 participants and rich exchanges, this third edition confirms the importance of discussing tomorrow's issues together, from climate, mobility, food and inflation to health and artificial intelligence.
Contain inflation to 2% by 2025. This was the objective announced by the Governor of the Banque de France at the third edition of the Common Good Summit, held in Toulouse on June 1, 2023.
The movement has already been underway for several months, following the peak of 10.6% reached in October 2022, but François Villeroy de Galhau would like to continue this slowdown in price rises. In his view, price and currency stability are a "common good". 
Many French people have recently felt the tangible effects of inflation. "A sizeable fraction of the population - between 25% and 30% of households - are suffering more because they don't have access to savings and therefore can't smooth out their consumption," points out Patrick Fève, economist at TSE. 
Inflation could be contained in other sectors, like services, after the European Central Bank decided to raise its key interest rates, according to the Governor. 
Nevertheless, Fabrice Collard, also an economist at TSE, urges vigilance regarding the consequences of this policy on businesses. "Some of Covid's aid has been paid to so-called 'zombie' companies, which are not viable in normal times." The researcher asserts that there is a subtle trade-off to be made between the fight against inflation and the stability of the financial system, which is why the job of central banks is a difficult one. 
While François Villeroy de Galhau assures us that European banks are solid, he has some reservations about the state of public finances. Following the "whatever it takes" approach, the Governor believes that public spending needs to be stabilized. 
---