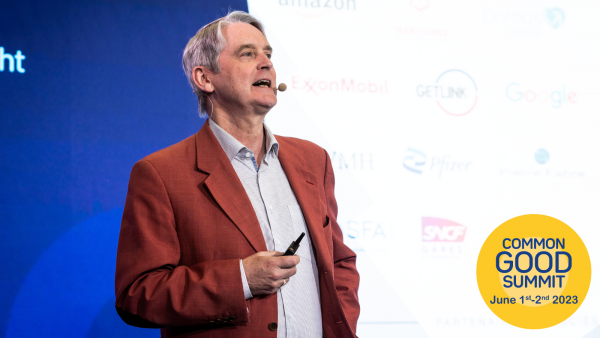 This debate took place during the third edition of the Common Good Summit, organized jointly by TSE, Challenges and Les Echos-Le Parisien Evénements. On June 1 and 2, 2023, economists, economic decision-makers, representatives of public authorities and civil society came together to reflect on a central question: how can we save the common good? With over 1,300 participants and rich exchanges, this third edition confirms the importance of discussing tomorrow's issues together, from climate, mobility, food and inflation to health and artificial intelligence.
The term narrative has become very popular, they have been increasingly used over the past years. Politicians and business leaders have been trying to tell us that they are competent and to show that that they are leading us through struggles. 
So what are these narratives? They are stories and lists of events that have a logic. They have a structure, even if it is not chronological, there's still a common thread to the elements that compose the narrative. These stories also exist for a reason, they have a purpose. Narratives sell you a conclusion without telling you how they have done so.  
There are notable features of narratives in social life: they catch your attention, they aim at motivate you to overcome obstacles, they have a meaning. 
When we study narratives, we find three key messages: 
Reward comes after sacrifice. This is why the French government lost the narrative in the pensions' debate: after sacrifices, there might not be any reward. 
Sacrifice is acceptable only if it's shared. Like for instance when the president of Ukraine, Volodymyr Zelensky, decided to stay despite the Russian invasion and has been seen dress in khakis on the ground sharing the struggle of citizens and soldiers. 
Sacrifice is needed because of an enemy. To encourage Brexit, Nigel Farage, former leader of UKIP, spread a narrative describing refugees as dangerous people who were on the verge to "invade" Europe. 
One question about narratives remains unanswered: what will be the impact of AI on narratives? It will probably lead to a fiercer competition as it can generate narratives by the hundreds.
---