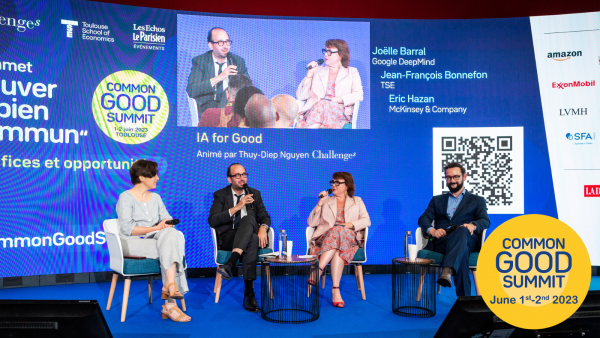 This debate took place during the third edition of the Common Good Summit, organized jointly by TSE, Challenges and Les Echos-Le Parisien Evénements. On June 1 and 2, 2023, economists, economic decision-makers, representatives of public authorities and civil society came together to reflect on a central question: how can we save the common good? With over 1,300 participants and rich exchanges, this third edition confirms the importance of discussing tomorrow's issues together, from climate, mobility, food and inflation to health and artificial intelligence.
Between regulation and experimentation, artificial intelligence is not perceived in the same way by everyone, especially when it comes to the notion of "good". Three experts debate the issue in Toulouse on June 1, 2023.
"In a call center, it is now possible to correct an operator's accent with the help of artificial intelligence. Do we want a society where people use filters to speak without accents? Or a society where everyone speaks with their own voice?" 
Jean-François Bonnefon, researcher at TSE and director of research at CNRS, sets the framework for the debate. How do we define the responsible use of technologies? "For autonomous cars, it's simple," says Jean-François Bonnefon, "the lesser evil will be to avoid collisions." 
Also present to discuss the subject, Joëlle Barral, Director of Artificial Intelligence Research at Google, corroborates the importance of regulation: "AI must certainly be regulated, but above all regulated well: at Google we are committed to ensuring that artificial intelligence does not reinforce biases and respects a high level of scientific requirement". For Eric Hazan, Associate Director at McKinsey, "it's up to us to use it for good". 
Such regulation would make it possible to control not only the day-to-day use of AI, but also its possible repercussions on certain areas of society, such as work. For Jean-François Bonnefon, robots are unlikely to replace humans until they can resolve moral dilemmas. Eric Hazan adds that "one way to keep your job will be to know how to master these technologies." 
---