TSE and Getlink launch the Initiative for Effective Corporate Climate Action 

TSE and Getlink, through its subsidiary Eurotunnel, (concessionaire of the Channel Tunnel infrastructure until 2086), announced on May 18th the launch of the Initiative for Effective Corporate Climate Action. This research project will study the effectiveness of corporate climate action initiatives.
Climate change is a fundamental challenge for businesses. They must transform to respond to a series of imperatives: the rapid and serious reduction in their greenhouse gas emissions, the broader decarbonization of their value chain, and the analysis of the impacts of climate deregulation on their activities. Decarbonization efforts come with a cost, they must be implemented according to a twofold perspective economic - the capacity to create value and prosperity – and climatic, to determine the most efficient route to achieve the goals of the Paris agreement.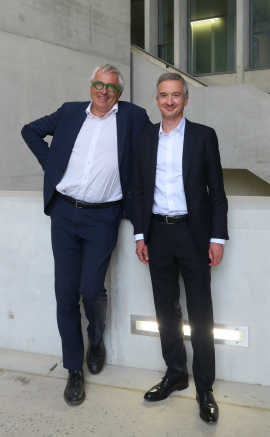 For Yann Leriche, Getlink CEO, "Energy transition will not happen if we deny the economic element. We are convinced that we must focus on the questions of true ambition, speed and efficiency of corporate decarbonization strategies. We are delighted to partner with one of the leaders in this field, the Toulouse School of Economics." 
Academic research looks in depth at the interactions between economy and climate. In particular, it addresses the levers available to aid decarbonization, the incentives provided to industry by stakeholders, regulatory constraints, and the influences on corporate strategic decision making.
Christian Gollier, managing director of TSE, stated "The combination of economic analysis and a scientific approach will be decisive in helping directors of both public and private entities to lead the global decarbonization agenda."
TSE is delighted to welcome the Initiative for Effective Corporate Climate Action. 
The activities of the initiative will include:
Research
Seminars and workshops
Developing case studies and student projects
Publications and events for the dissemination and valorization of research results such as « master classes » to share research with public and private sector specialists and the media
Find out more: www.tse-fr.eu/initiative-for-effective-corporate-climate-action
On June 30, Getlink will participate in an Executive Education course on corporate climate action.