Conference in french: "Visigothic relics under the School of Economics", Wednesday, October 5

The association "Toulouse Wisigothique" will give a talk on the vestiges found during the construction of the TSE building. After the conferences will take place the official inauguration of the "Place des Reines et Rois Wisigoths" by Jean-Luc Moudenc, mayor of Toulouse.
14h15 Welcome: by Hugues KENFACK, University Toulouse Capitole President
Welcome: by Christian GOLLIER, TSE managing director
Introduction: by Jean-Marie PAILLER, Professor Emeritus, Vice President of Toulouse Wisigothique
Presentation by Emmanuelle BOUBE, Lecturer in Antique Archaeology, Toulouse Jean Jaurès University, General Secretary of Toulouse Wisigothique  
Des vestiges d'époque wisigothique sous l'Ecole d'économie
Conférence par Ralph MATHISEN, Professor of Antique History, University of Illinois at Urbana-Champaign (USA), author of several studies on the history of the fifth Visigothic century
Les Barbares ont-ils sauvé la civilisation ? ou l'interaction entre Romains et Barbares au temps des rois goths de Toulouse
16h15 Some words by Francis GRASS, Deputy Mayor in charge of the coordination of cultural and memorial policies.
Move to the inauguration site (on foot from the TSE building)
16h30 Official Inauguration of the Place Wisigoths Queens and Kings by Jean-Luc MOUDENC, Mayor of Toulouse, Président de Toulouse Métropole, and by Ghislaine DELMOND, Deputy Mayor of Toulouse, Mayor of Amidonniers, Compans-Caffarelli.
Cocktail offered by the city hall of Toulouse. Animation by the group of Occitan polyphonies Les Mâles au Chœur de Tolosa, and by the musicians of the group Garonnette.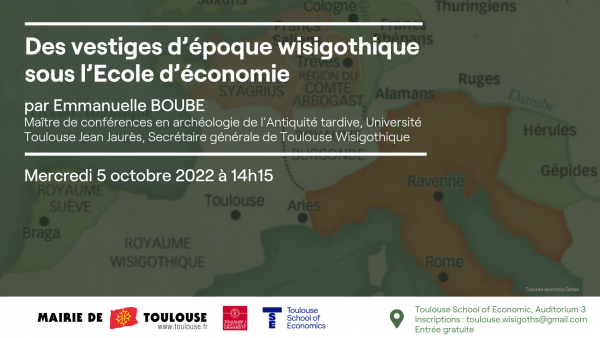 Registration is mandatory, please send an email to: toulouse.wisigoths@gmail.com
Illustration BNF Gallica