The careers service is pleased to welcome Jeffrey Franks,, Director of the IMF's European Department on November 21th, 2022 at 5:00 PM who will present a lecture on "From Pandemic to Energy Crisis: France and the European Economy".
The European economy has been hit by twin shocks, with the Covid pandemic followed by a severe energy shock driven by Russia's invasion of Ukraine. Growth is slipping, inflation is at 40 year highs, and recent financial turbulence in the UK suggests that risk are rising concerning fiscal sustainability and financial stability in some countries. France has weathered these crises relatively well—its recovery from the economic effects of Covid was strong, and the initial effects of challenges, particularly high and rising public debt and weakening growth prospects. The presentation will explore these issues, drawing from the just-concluded annual economic review of France by IMF staff and the recently published Regional Economic Outlook for Europe.
These talks aim to develop the economic culture of students and to learn more about case studies.
Bio Jeffrey Franks
Jeffrey Franks is the Director of the IMF Europe Office and Senior Resident Representative to the European Union. Previously, he spent nearly 3 years as mission chief for Pakistan. A 24 year veteran of the Fund, he has held numerous other assignments working mainly on Europe and Latin America, including heading the resident offices in Ukraine and Ecuador, and leading teams on Romania, France, Belgium, and Paraguay. He received his Ph.D. in Political Economy and Government from Harvard, and has Master's degrees from Princeton and Oxford universities.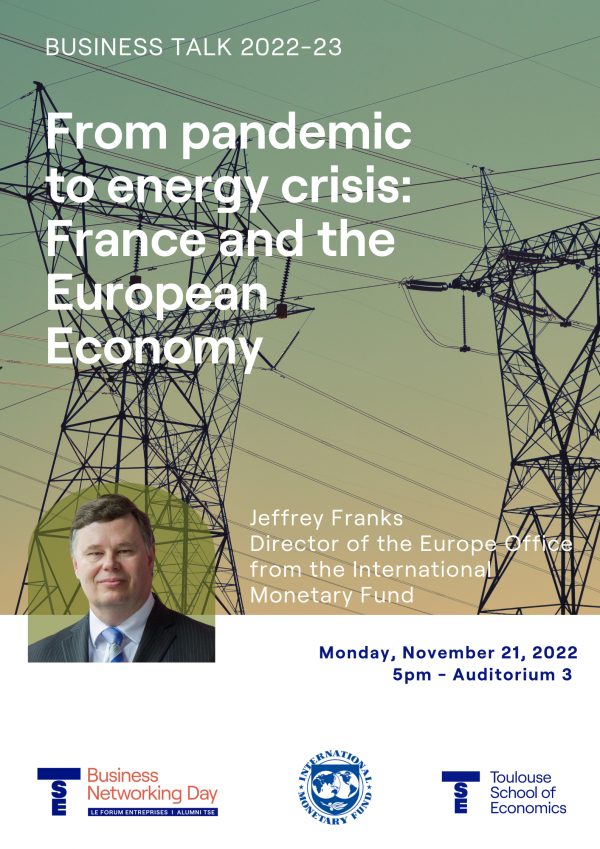 Contact : careers@tse-fr.eu