TSE for international studies
TSE offers an innovative graduate program in economics entirely taught in English and a doctoral program modelled on the top American universities.
Students benefit from a teaching environment which is truly cosmopolitan and open:
More than 45% of foreing students (90 different nationalities are represented)
47% of TSE graduates find their first job abroad
30 % of international Professors-Researchers
To find out more :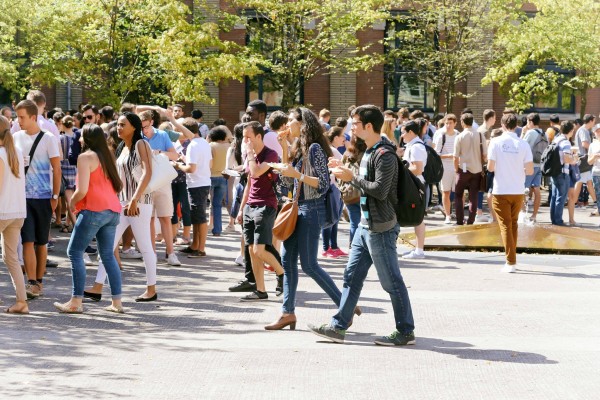 Mutual enriching study experience
Each year the TSE school plays host to over 100 students from over 50 European and International Universities, as part of the Erasmus exchange programme and bilateral agreements.
Choice of courses at the Toulouse School of Economics – TSE
In order to prepare the choice of courses before arriving to Toulouse, it is recommended to have a look at the open course lists:
- The open course list 2017-2018 for students who are coming from a TSE partner university
They can follow courses from the first year in Licence 1 to the Master 1 in Economics, international track. All Master 2 courses are closed to the exchange students.
- The open course list 2017-2018 for exchange students registered at the IAE Faculty, the Law Faculty and the AES Faculty
For the next academic year 2017-2018 students will only be allowed to follow courses from the first year in our "Licence 1 Economie et Gestion" and from the second year in our "Licence 2 Economie et Gestion". These courses are completely taught in French.
A pre-selection on these choices begins before arriving to TSE, notably the requirements in mathematics and language (B2 level in English and/or in French is highly recommended).
A compulsory information meeting will be held Wednesday 30th August 2017 from 2:30pm to 4:00pm at the MBI Amphitheater on our campus the "Manufacture des Tabacs". In the second semester, there will be no information meeting.
To find out more: academic calendar for 2017-2018
Note: It is recommended not to book flights too early. Changes in the exam schedules may occur.
Other faculties or components of UT1 may have a different calendar.
Before arrival
The International and European Relations office (SCREI) of the University Toulouse 1 Capitole is in charge of all exchange students. Useful information regarding studies and stay in Toulouse are available (registration, housing etc) on the University website UT1 under the heading "Europe and International".
Application
To apply, students must do their registration online at the following address: http://www.ut-capitole.fr/incomingstudents.
Useful contacts
Toulouse Capitole University
Toulouse School of Economics – TSE
Partnerships: Seize the opportunity!
The school focusses on developing international partnerships with the best universities in the world. Thanks to these agreements, every year more than 50 students leave TSE to study abroad for a gap year.