Crossing Channels : IAST Podcast

Jointly produced by the Bennett Institute for Public Policy, University of Cambridge, and the Institute for Advanced Study in Toulouse (IAST) this podcast series brings you interdisciplinary perspectives on significant challenges facing society today.
Prof David Runciman and Prof Karine Van der Straeten talk to Rory Cellan-Jones about extending voting rights to school-aged children. 
This episode unpacks the main objections against lowering the legal voting age, the merits of extending democratic rights to children, and how children's voices might be better represented in electoral processes. Leading experts explore how the enfranchisement of children could revitalise our democracy and inject a fresh set of perspectives.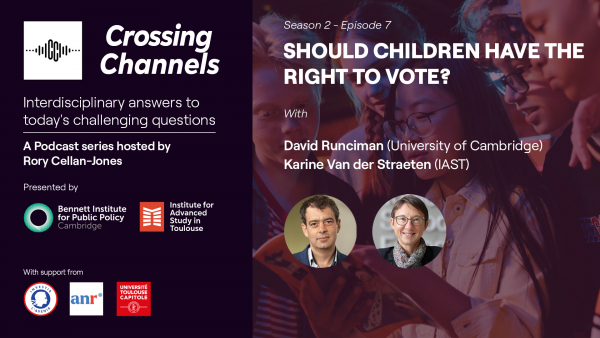 Listen to this episode on your preferred podcast platform: https://podfollow.com/1597966909/episode/1f825ad1391a0fe3411155dabffa19459a87beff/view
Photo d'illustration de Bewakoof.com Official sur Unsplash