Located in the heart of the city, along the Garonne river, Toulouse School of Economics is minutes away from the main train station and airport.

 

 

Taxis:

Taxis are available on ground floor of the airport. Journey time: approximately 20 minutes, depending on the traffic, count a 25€ fare.
Airport shuttles:

The "Flybus" shuttle bus service is available from the airport to the City Center, even during weekends. The bus stop near to the University of Toulouse is "Compans-Caffarelli" bus station.
Departures are every 20 minutes from / to the airport / Toulouse, with 4 stops in the City Center: Compans-Caffarelli Center - Place Jeanne d'Arc - Allées Jean-Jaurès - and the coach station terminus (close to the rail station).
Timetable and frequency:
Journey time: around 20 minutes depending on the traffic.
First departure from the coach station: 5.00 am, last departure from the coach station: 8.20 pm.
First departure from the airport: 7.35 am, last departure from the airport: 0.15 am.
The shuttle service operates every day of the year (including holiday periods and public holidays).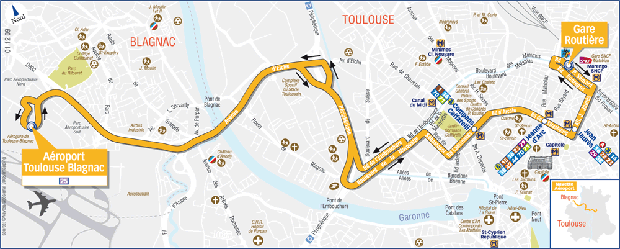 Tram line:

There is a tram line T2 to link the city center (stops are Palais de Justice and Arènes) to the Blagnac airport, every 15 min from 5:30 to 23:30, 7/7.

From the rail station called 'Gare Matabiau' at "Marengo SNCF" station on line A, the University of Toulouse can be accessed by Metro (underground system).
Underground itinerary: Rail station "Marengo SNCF" Station > Toulouse School of Economics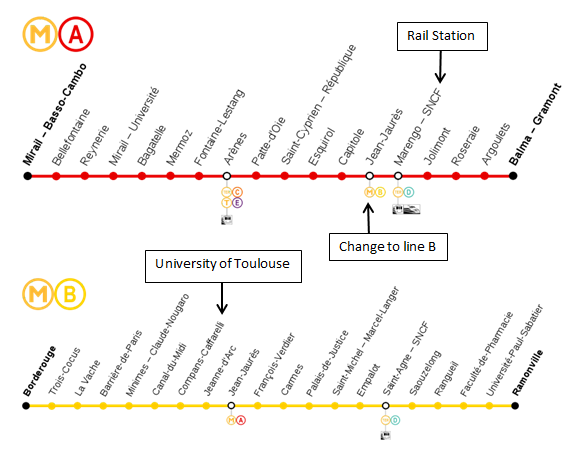 Take Line A (underground named 'Marengo - SNCF') to Jean-Jaurès station (to Basso-Cambo), then take the second underground Line B until 'Compans Caffarelli' station (to Borderouge).
Get out of the underground, follow Rue de Lascrosses (Lascrosses Street), then Boulevard Maréchal Leclerc, cross the bridge, the Manufacture des Tabacs is on your left.
Further information: www.tisseo.fr/en/home
 

By car

Toulouse has direct motorway connections to the main capitals of Northern and Southern Europe.
A61 (Carcassonne, Montpellier, Barcelone)
A62 (Bordeaux, Paris, Montauban, Agen, Limoges)
A64 (Tarbes, Lourdes, Bayonne, San Sebastian, Foix)
A66 (Pamiers, Foix, Andorra) / A68 (Lyon, Lavaur, Albi)
When you get to the toll exit, take direction « Toulouse Center », exit n°30.
(South-west road information center: Tel. + 33 (0)5 56 96 33 33)