March 29, 2021, 17:00–18:00
Online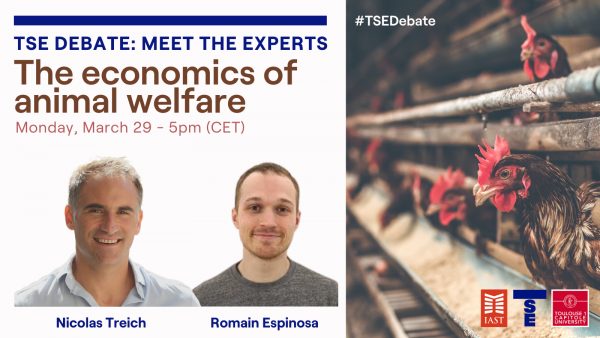 Illustration of chickens : credit Artem Beliaikin on Pexels

 

Meet the experts: the economics of animal welfare

Public opinion seems more and more sensitive to the animal cause, but what do we know about the economics of the animal condition? In this webinar, our experts will shed light on the economics of animal welfare, analyze the determinants of meat consumption as well as the evolution of our diet and income and the evolution of our consumption and its impacts on our health and on the planet.
Romain Espinosa is a researcher in economics at the CNRS. He specializes in decision-making mechanisms and experimental methods. His work focuses on plant nutrition and animal condition: food choices, cognitive biases, political and social preferences. In 2021, he published a book "How to save animals? an economy on the animal welfare", puf editions.
More information: https://romainespinosa.com/comment-sauver-les-animaux/
Nicolas Treich is research associate at INRAE, TSE and IAST. His research concerns risk and decision theory, environmental economics, benefit-cost analysis and more recently animal welfare.
This online event will be fully in English and recorded. The video from the event will be available on our Youtube Channel.