Philippe Aghion, laureate of the 2022 Jean-Jacques Laffont Prize

Save the date Tuesday, December 6, 2022

Celebrating his groundbreaking research on growth and innovation, this year's Jean-Jacques Laffont Prize is awarded to economist Philippe Aghion, professor at Collège de France, INSEAD (European Institute of Business Administration), and London School of Economics.
Since 2005, TSE organizes the annual Jean-Jacques Laffont Prize which is awarded to a renowned international economist whose research reflects Professor Jean-Jacques Laffont's work, combining both theoretical and empirical studies. The prize winner presents their research at a public lecture, in partnership with the city hall "Mairie de Toulouse".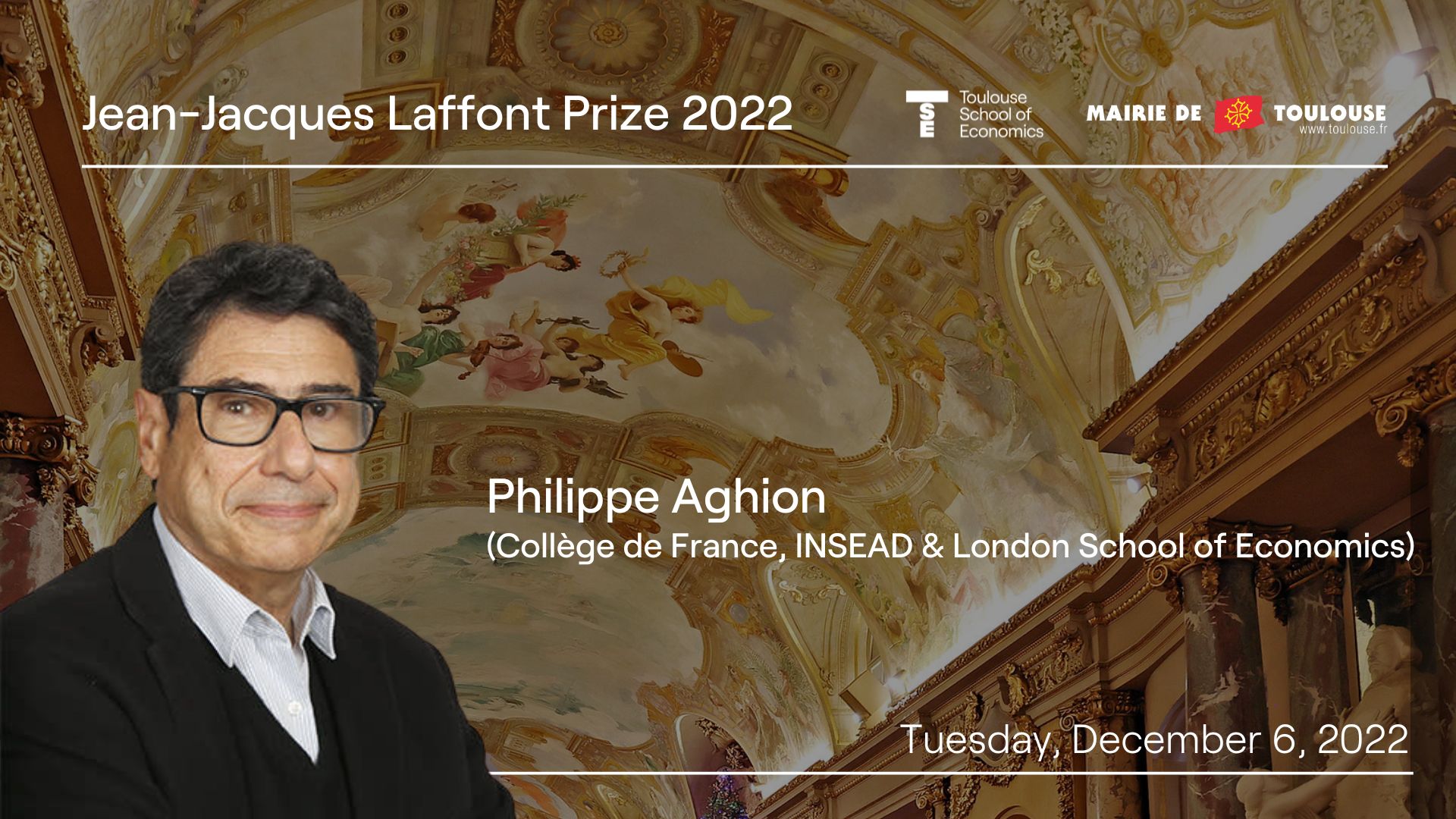 This year, the Prize will be awarded to Philippe Aghion (Collège de France, INSEAD & London School of Economics) on December 6, 2022.
Find out more about this event.
"Receiving this award is a great honor. Jean-Jacques Laffont was an incredible builder, shaping Toulouse as the flagship of economics in France and Europe. He was also a man of vision, whose contribution to economics was decisive, similarly to Jean Tirole's work, who was one of my mentors. As it echoes their heritage, this prize confers on me a great responsibility".
 

A man of ideas

"My research deals with the theory of creative destruction: that is, the way a new innovation destroys an older one, making it obsolete," Philippe explains.
"This mechanism drives capitalism and has allowed major growth in our standards of living. What's at stake currently, is to know how to deal with this power in order to steer it towards greener and fairer growth, for the common good."
"However, this creative destruction process forces us to face a contradiction: we have to support businesses to preserve jobs and human resources, while encouraging new companies and activities that are more productive or better aligned with consumers' needs."
This is why, three main actors are essential, says Philippe: companies, civil society and the state. "The latter has a particularly important role in redirecting technical change towards green innovation, to prevent an environmental catastrophe. For instance, if we look at the car industry, the implementation of a carbon tax or a green innovation subsidy will make technological change less costly and redirect car business' innovation towards electric engines. But consumers also play an important role in this equation."
"Boosting innovation will be essential"

At the TSE Common Good Summit earlier this year, Philippe insisted that boosting innovation will be essential if France is to ride out economic turmoil and the green transition. "France has experienced an industrial decline in all sectors since the mid-1990s: our trade deficit will exceed €84 billion in 2021. This reflects a lack of innovation. It is only in nuclear, aeronautics and luxury that we have retained technological leadership." He called for investment in a new innovation ecosystem, inspired by US research institutions like DARPA and BARDA, and for the research tax credit to target smaller firms.
Public investment must be accompanied by good governance and subject to performance tests, he said. "Not all investments are equal. There are recurrent and unproductive expenditures caused, for example, by the structural deficit of the pension system, or the territorial 'millefeuille'. On the other hand, there are useful investments in growth and the ecological transition. If you invest in growth, you increase your ability to pay your long-term debt." Pension reform was another pressing issue, he argued, advocating an increase in the retirement age. "The alternatives to balance the pension system are to lower benefits or to increase contributions. This lowers purchasing power and it's bad for the economy. The only non-regressive measure is to increase the contribution period." 
We look forward to hearing more insightful analysis from Philippe at the award ceremony in Toulouse on December 6.