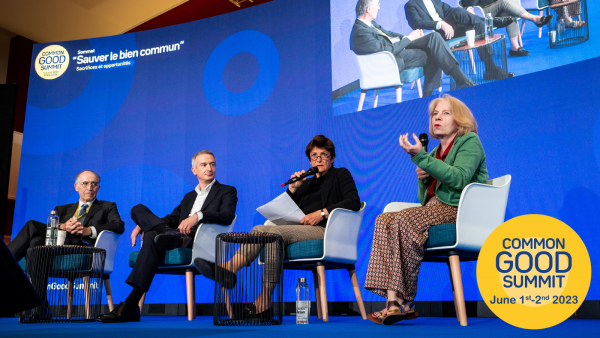 This debate took place during the third edition of the Common Good Summit, organized jointly by TSE, Challenges and Les Echos-Le Parisien Evénements.
On June 1 and 2, 2023, economists, economic decision-makers, representatives of public authorities and civil society came together to reflect on a central question: how can we save the common good?
With over 1,300 participants and rich exchanges, this third edition confirms the importance of discussing tomorrow's issues together, from climate, mobility, food and inflation to health and artificial intelligence.

 

The Paris Agreement, ratified in 2015, were supposed to be a milestone in the fight against climate change. Eight years after the COP 21, the goal of limiting global temperature rise to 1.5 degrees Celsius seems hard to achieve. 
At the 2023 Common Good Summit, Claude Crampes, professor emeritus at TSE and a specialist in energy issues, particularly electricity, made the following observation: "To achieve carbon neutrality by 2050, we will need to triple electricity production, and thus manage to abandon fossil fuels that emit greenhouse gases." 
But this trajectory raises a number of challenges. "Given that electricity cannot be stored, investment will be needed, not only in new generation capacity, but also in networks to bring electricity to the where it is actually used." The economist adds that storage facilities will also be necessary to compensate for the intermittent nature of renewable energies. Finally, to meet the challenges of "green" transport, production and recharging networks will have to be developed. 
Common language 
Transport is Getlink's core business. Its Managing Director, Yann Leriche, points out that, at present, the French rail network is only partially electrified. Some trains therefore still run on diesel. "We have signed a partnership with the agro-industrial group Avril to recover rapeseed oil and use it to run our trains. This will enable us to reduce our CO2 emissions by 60% over the next ten years." 
Like Getlink, many companies are now setting targets, echoing the Paris Agreements, such as ExxonMobil, present at the Common Good Summit through the voice of its Europe President, Philippe Ducom. "A 'low-carbon solutions' division [was created] in which we will invest $17 billion by 2027, and this, based on three technologies, CO2 capture and storage, biofuels and green hydrogen", he explains. 
While everyone is setting out their wishes and objectives, Lucile Schmid, vice-president of the think tank La Fabrique Ecologique, insists that "the difficulty we're facing is not only about the common good, but more specifically about common language. Will there ever be a common language between activists, economists and business leaders?" In her opinion, economic language "must be a common language on ecology". 
---