21 May 2012: David SALANT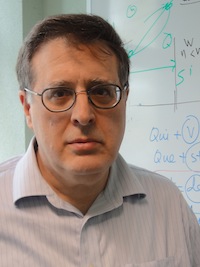 David has been an associate TSE researcher since 2007 and is currently on a 2-year full-time visit, based in Toulouse from 2011 to 2013. He received a PhD in economics from the University of Rochester in 1981 before embarking on a 30-year professional career combining research positions and senior consulting roles, particularly within the telecommunications industry (Bell Laboratories, GTE Laboratories, State University of New York at Buffalo). For the past 5 years David has been teaching a yearly course at the TSE school, "Topics in Applied IO".
(1) Why did you choose to work at TSE?
I met Patrick Rey, TSE researcher and previous director of the IDEI, in 1991 at the EEA annual congress at the University of Cambridge. At that time, Patrick was working at the CREST in Paris and invited me to visit him there. After Patrick moved to Toulouse and the IDEI, we stayed in regular contact, working on a number of research collaborations over the years.
(2) How would you describe your research to the general public?
My work is mainly focused on industrial organisation, regulatory economics and, in particular, auction design. Over the years I have developed significant theoretical knowledge and skills in the area, through my research positions developing economic simulation models of wireless networks. I have also gained much knowledge of real-life auction implementation, through my extensive experience in the energy and telecommunications sectors. I therefore don't fit into any particular box, as I work in both academic and industrial worlds!
(3) How does this research impact on society?
The theory I develop in auction design is often directly inspired by my own actual experience in real-life auctions I have implemented and patented. So one could almost say it's society that impacts on the research! Take for example work I have carried out on auction design in the energy sector. I have set up procurement systems to ensure reliable electricity provision to customers at competitive prices, with the aim of avoiding blackouts. I have then developed models to formalise these proven solutions to procurement problems.
(4) A current or upcoming highlight in your work?
Market issues and auction design theory in the telecoms and energy sectors are still advancing. This is therefore a sector I am concentrating on during my stay in Toulouse. I am, for example, helping my TSE colleagues to set up an energy conference in January 2013. I am also working on experimental / behavioural auction design projects for the telecoms sector, with Roberta Dessi.
I am also currently working on a book, for MIT press, based on the class I teach at TSE: A primer for auction theory design management and strategy. The aim of the book is not to provide a comprehensive overview of the subject, but rather to provide the basics of what one needs to know about the workings and design of an auction. Working on the book feels like being in a long Swiss tunnel, but I am starting to see the light at the end of that tunnel!
(5) Your permanent residence is in San Francisco. Tell us about that.
My family and I have been based in San Francisco for 15 years, and we love it. What I particularly appreciate about the city is the beauty and scope of the nature: there are many conservation areas very close to the city centre, such as the Marin headlands just north of the Golden Gate bridge, and the islands in the bay such as Alcatraz (the real one!) and Angel island…