TSE Community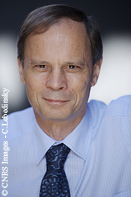 Jean Tirole
Chairman, Toulouse School of Economics (TSE)
Chairman of the Executive Committee, Institute for Advanced Study in Toulouse (IAST)
Contact
E-mail : see the e-mail
Tel : +33 (0)5 61 12 86 42
Office : MF 529
Assistant
Marie-Pierre Boé
E-mail : see the e-mail
Tel : +33 (0)5 61 12 86 38
Office : MF 521
Bio and Research Interests
Research interests
Industrial Organization
Regulation
Organization Theory
Game Theory
Finance
Macroeconomics
Psychology

Biography
Jean Tirole is chairman of the Foundation JJ Laffont-Toulouse School of Economics (TSE), and scientific director of the Institute for Industrial Economics (IDEI), University of Toulouse Capitole. He is also affiliated with MIT, where he holds a visiting position, the Ecole des Hautes Etudes en Sciences Sociales (EHHESS), and with the Institute for Advanced Study in Toulouse (IAST), which he helped found in 2011.He is ingénieur général des ponts, des eaux et des forêts. Before moving to Toulouse in 1991, he was professor of economics at MIT. He was president of the Econometric Society in 1998 and of the European Economic Association in 2001.
Jean Tirole has given over eighty distinguished lectures and has published about two hundred articles in economics and finance, as well as 11 books. He received his PhD in economics from MIT in 1981, engineering degrees from Ecole Polytechnique, Paris (1976) and from Ecole Nationale des Ponts et Chaussées, Paris (1978) and a "Doctorat de 3ème cycle" in decision mathematics from the University Paris IX (1978).
He holds Honorary Doctorate degrees from the Free University in Brussels (1989), the London Business School (2007), HEC Montreal (2007), the University of Mannheim (2011), the Athens School of Business and Economics (2012), the University of Rome 2 (2012), Hitotsubashi University (2013) , Université de Lausanne (2013) ,EUI Florence (2015) and Luis U. Rome (2015). Among other prizes and honors, he received the Yrjö Jahnsson prize of the European Economic Association (granted every other year to an economist under the age of 45 who has made a contribution in theoretical and applied research that is significant to economics in Europe) in 1993, the gold medal of the CNRS in 2007 (the second economist, after Allais in 1978, to receive this medal, attributed to one researcher every year since 1954), and was the inaugural winner of the BBVA Frontiers of Knowledge Awards in economics, finance and management in 2008. He received the CME-MSRI award and the Levi-Strauss prize in 2010 and the Ross prize in 2013. He is the laureate of the 2014 Nemmers prize in economics and received the Sveriges Riksbank Prize in Economic Sciences in Memory of Alfred Nobel in the same year. He is a foreign honorary member of the American Academy of Arts and Sciences (1993) and of the American Economic Association (1993). He was elected to Allais' chair at the French Académie des Sciences Morales et Politiques in 2011.

Current position
| | |
| --- | --- |
| 2013 | Member of the French Strategic Research Council |
| 2011 | Chairman of the Executive Committee, Institute for Advanced Study in Toulouse (IAST) |
| 2011 | Member of the Académie des Sciences Morales et Politiques |
| 2009 | Chairman of the Board of Directors, Toulouse School of Economics |
| 2008 | Member of the Conseil d'Analyse Économique of the Prime Minister |
| 1995 | Directeur d'Etudes cumulant, EHESS |
| 1992 | Scientific director, Institut d'Économie Industrielle |
| 1992 | Visiting Professor MIT |
Former positions
| | |
| --- | --- |
| 2007 - 2009 | Director, Toulouse School of Economics |
| 2006 - 2009 | Fellow of the Haut Conseil de la Sciences et de la Technologie |
| 2001 | President, European Economic Association |
| 1998 | President, Econometric Society |
| 1984 - 1991 | Professor of Economics, Massachusetts Institute of Technology |
| 1981 - 1984 | Researcher; CERAS, École Nationale des Ponts et Chaussées |
Education
| | |
| --- | --- |
| 1981 | Ph.D., Massachusetts Institute of Technology |
| 1978 | Engineer, École Nationale des Ponts et Chaussées |
| 1978 | Docteur de 3ème Cycle, Decision Mathematics, Paris IX - Dauphine |
| 1976 | Engineer, École Polytechnique |
| 1976 | Diplôme d'Étude Approfondie, Decision Mathematics, Paris IX -Dauphine |
Grants and awards
| | |
| --- | --- |
| 2014 | Sveriges Riksbank Prize in Economic Sciences in Memory of Alfred Nobel |
| 2014 | Erwin Plein Nemmers Prize in Economics |
| 2013 | Stephen A. Ross Prize in Financial Economics |
| 2013 | Honorary doctorate degree, Hitotsubashi University |
| 2013 | Honorary doctorate degree, Université de Lausanne |
| 2013 | Honorary Fellow of the Royal of Society of Edinburgh |
| 2012 | Honorary doctorate degree, Athens University of Economics and Business |
| 2012 | Honorary doctorate degree, University of Rome Tor Vergata |
| 2012 | Grand Prix of the "Académie d'Occitanie" |
| 2011 | ILB and EIF Award for the best paper in finance ("Leverage and the Central Banker's Put") written with Emmanuel Farhi |
| 2011 | Member, Académie des Sciences morales et politiques |
| 2011 | Honorary doctorate degree, University of Mannheim |
| 2010 | European Research Council Grant |
| 2010 | CME Group - Mathematical Sciences Research Institute Prize in Innovation Quantitative Applications |
| 2010 | Claude Levi-Strauss Prize |
| 2010 | Officier dans l'Ordre National du Mérite |
| 2009 | Fellow of the Academie des Sciences, Inscriptions et Belles Lettres de Toulouse |
| 2008 | (Inaugural) Frontiers of Knowledge Award of the BBVA Foundation |
| 2008 | Cercle d'Oc Prize |
| 2007 | Chevalier de la légion d'honneur |
| 2007 | "Risques" - "Les Echos" Award |
| 2007 | Honorary doctorate degree, London Business School |
| 2007 | Honorary doctorate degree, HEC Montreal |
| 2007 | Gold medal, CNRS |
| 2007 | Gold medal, city of Toulouse |
| 2004 | Institute of Scientific Information-Thomson Price Winner in Economics |
| 2002 | Médaille d'argent, Centre National de la Recherche Scientifique |
| 2002 | Lauréat du Prix Dargélos de l'Ecole Polytechnique |
| 1999 | Distinguished Fellow Award, Industrial Organization Society |
| 1998 | John von Neumann Award, Rajk Lazlo College for Advanced Studies, Budapest University |
| 1997 | Public Utility Research Center Distinguished Service Award, University of Florida, Gainesville |
| 1996 | Center for Economic Studies Prize, Munich |
| 1993 | Foreign Honorary Member, American Academy of Arts and Sciences |
| 1993 | Foreign Honorary Member, American Economic Association |
| 1993 | Yrjo Jahnsson prize of the European Economic Association |
| 1989 | Doctorat Honoris Causa, Université Libre de Bruxelles |
| 1988 - 1989 | John Simon Guggenheim Memorial Fellowship |
| 1985 - 1987 | Sloan Fellowship |
Mimeos
Marking to Market versus Taking to Market, November 13, 2016 (with Guillaume Plantin)
[Full text]

Cognition-Intensive Contracting, July 22, 2015
[Full text]

Cognitive Games and Cognitive Traps, July 2015
[Full text]

Shrouded Transaction Costs, September 20, 2014 (with Hélène Bourguignon and Renato Gomes)
[Full text]

Deadly Embrace: Sovereign and Financial Balance Sheets Doom Loops, October 28, 2016 (with Emmanuel Farhi)
[Full text]
 

Pandering and Pork-Barrel Politics, July 23, 2014 (with Eric Maskin): under revision


 
Laws and Norms (with R. Bénabou): under revision
 
Cooperation vs. Collusion: How Essentiality Shapes Co-opetition (with P. Rey): under revision